Radu Travel also hosts
forum

Winter camps
Winter camp is open to students kindergarten and primary school and aims to initiate and improve in alpine skiing and snowboarding.
Our company organizes winter camps with activities centered on skiing or snowboarding at international standards, both locations chosen for accommodation and instructors and equipment are at the highest level.
Instructors
Our instructors are former skiers high performance with experience in working with children.
They also are good and speaking foreign languages (English, French, Italian).
All our instructors are holders of license instructor and working in winter camps "Fulg of Nea" in Predeal.
Groups of children in winter camps
The groups consist of 6 children up to an instructor and are made according to age and training level.
We can boast with groups of children 3-4 years and also with the advanced group 16-17 who were in camps organized by Radu Travel winter and return each year.
Winter snowboard camps are addressed to children older than 6 years and also conducted for advanced and initiated.
Winter Ski Camps
We organize winter camps in the country in Predeal and Sinaia and winter camps abroad in Bulgaria and Austria.
Camps also provide our resort last generation equipment for those wishing to improve skiing parabolic (carvi).
Winter Snowboard Camps
Winter snowboard camps are supported by qualified instructors, former ski performance.
Baggage for winter camps
Before starting, check that you got everything you need in the backpack.
See list for persons interested baggage necesr winter camps.
Photo Gallery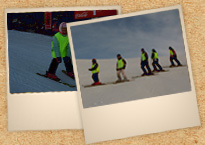 To view images, visit the photo gallery of winter camps.
Video Gallery

To watch videos, visit the video gallery of winter camps.