Radu Travel also hosts
forum

Summer Camps
Specific mountain summer camp offers your child the opportunity to stay as much in nature, to know the environment, to develop a lot of activities (climbing, tennis, riding, etc..), Which brings adventure during the summer.
As organizers of the mountain camps and activities for preschoolers and school students with an experience of over 10 years, and we try to introduce new activities in our camp program, our concerns are not bored your child even one minute.
Baggage for summer camps
Before starting check that you got everything you need in the backpack.
See list for persons interested baggage necesr summer camps.
Galerie foto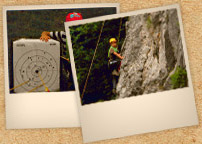 To view images, visit the photo gallery of the camps..
Video Gallery

To watch videos, visit the video gallery of the camps.